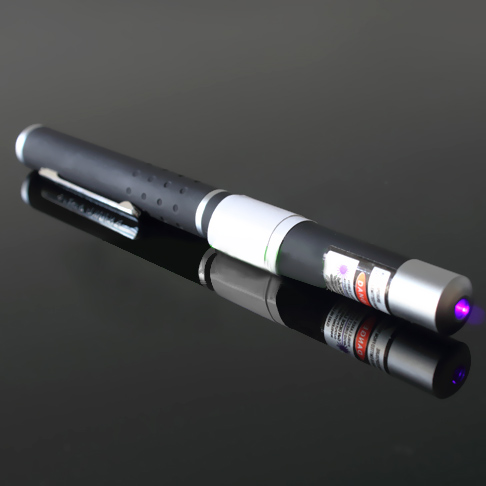 Royal Purple laser pointer pen 50mw

Inventory status : Have in stock
color :blue violet laser
size :13.5mm X156mm
The weight :46g

$ 34.07
Guarantee: When you buy laser pointers from everyonetobuy.com , we take care to ensure convenience, discount pricing, and quality. We guarantee a 30-day money back return policy, one year warranty! If you have any problem, please contact us in time.
50mW purple laser pointer  will let you have a amazing party in holiday. Made of high quality material, so it is enough durable for long time using. Thecheap 50mw green laser can be seem as far as the eye can see. Power saving, compact and reliable. Lightweight and handy design, it is very convenient to put in bags or pockets. Perfect for teachers, professors, doctors, managers, engineers and so on. Come with black clamp, you can use it to connect the Laser pen to bicycle handlebar easily.
Specification:
1.Size: φ13.5mm X156mm
2.Material:copper
3.Surface treatment: rubber paint(shell)Electric sand chrome(part)
4.Laser wavelength:405nm
5.Output power:50mw laser
6. security level: ClassⅢB
7.circuits control: boost constant current circuit
8.Spot form: Punctate
9.Beam type: Continuous linear
10. spot size : 10mm< φ18mm
11.Focus: fixed focus
12.Operating current: low than 60mA
13.Operating voltage: DC=3~3.7V
14. starting voltage: DC=2.6V
15. booting time:0
16.Working temperature:0℃ - 35℃
17. Storage Temperature: -10℃~ 40℃
18 Package: lintbox
19 .Power supply: 2*alkaline cello(including)

Notice:
405nm Wavelength purple laser pen 50mw (blue-violet light) is very dark, if you need brightness laser pointer, please choose the red laser or green laser.
1.Press the button to use.
2.Do not look into the aperture of the laser beam,and do not aim into eye!
3.Do not repeat to switch the laser pointer within 1 min, otherwise it will shorten the lifetime of the laser pointer.
4.Take off the battery and Keep out of reach of children!
5.Charging or changing the battery once the laser beam brightness seriously drop!